In-Person Children's Program
With careful planning, we're excited to open our Simple Church Children's Program!
Like our redesigned weekend services, we're taking additional steps to keep our children's program safe (and fun) for your family.
We've increased hygiene and cleaning protocols in our spaces during and after service.
Additional hand-sanitizing stations will be available in check-in and lobby area.
All toys and hard surfaces will be sanitized at every service.
When you arrive, be ready for a redesigned check-in process to help support a safe environment.
Every staff member, volunteer, and child will have their temperature taken before checking in to Simple Church Children's Program. We aren't able to check in anyone with a temperature of 100.4 or higher.
Our Dream Team and Children's volunteers will help you at the check-in kiosks and handle sign-in sheets for you.
We encourage you to only send one parent for check-in and check-out to help limit traffic.
Be sure to use hand sanitizer or wash your hands before entering. Encourage your child to do the same.
You'll see lots of big waves, but let's avoid hugs, high-fives, and handshakes.
We'll all need to work together to help keep Simple Church safe, so please stay home and participate online in if your child:
Has had a fever in the past 14 days.
Shows any symptoms of COVID-19.
Has been around anyone who has tested positive for COVID-19.
Registration
To help ensure that the Simple Church children's program operates below capacity please register each child for each Sunday Children's Program as restrictions remain.
Online Children's Program
Our church has remains online during this health crisis. Our children's program is engaging with our children who regularly attend through our private Facebook group and through the mail.
Every week our Children's Director, Amy Enos, mails your children a weekly lesson for you to help them through. It will also include things like a coloring sheet and simple crafts as well. To receive those weekly packets, sign your child up below.
Children's Ministry at Simple Church
At Simple Church our kids (infant through 6th grade) experience safe, age-appropriate environments where they learn about Jesus in a creative and relevant way.
Nursery: 0-18 months
Toddlers: 18 months - 3 years
Preschoolers: 3 - 5 years
Lower Elementary: K - 4th Grade
Upper Elementary: 5th - 6th Grade

Your First Visit
Here's what to expect when visiting Simple Church Kids for the first time:
First, you will walk in a be greeted by several Dream Team Volunteers. Let them know you are visiting for the first time and they will show you to the Welcome Area and then the Children's Ministry Check-In Window. There we will check your child into our system, and then one of our Dream Team Kids Volunteers will lead your child to their age-appropriate room.
Upon checking in for the first time, we will ask for the following personal information (NOTE: We value your privacy and will not share this information with anyone):
Parent/guardian name(s)
Child's name
Child's birthdate
Home address
Phone number
Any special instructions (allergies, special needs) for your children
With kids, time is important. You can save time by pre-registering your children below.
How Check-in Works
Before Service: You can check-in your child at the Children's Ministry Check-In Window with a Dream Team Volunteer. You and your child will be given matching name tags that are exclusive to your family and your visit. Your child will need to wear the name tag portion while you hold on to the matching tag.
After Service: After the service is complete, you will return to your child's room and show your tag in order for your child to be released back to you.
During Service: In the event that we need to contact you during the service, the Children's Ministry Director, Amy Enos, will either send the registered adult a text message or send a Dream Team Kids Volunteer to connect with you in the auditorium.
Meet our Children's Ministry Director
Amy Enos joined the Simple Church Ministry Team in 2016 as the Children's Ministry Director. Amy is married to her husband AJ Enos and enjoys going to the movies in her spare time.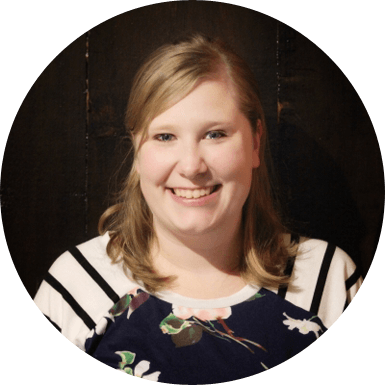 Got Questions?
If you have further questions concerning our Children's Ministry or visiting Simple Church with children, simply click the button below and get in touch with us!