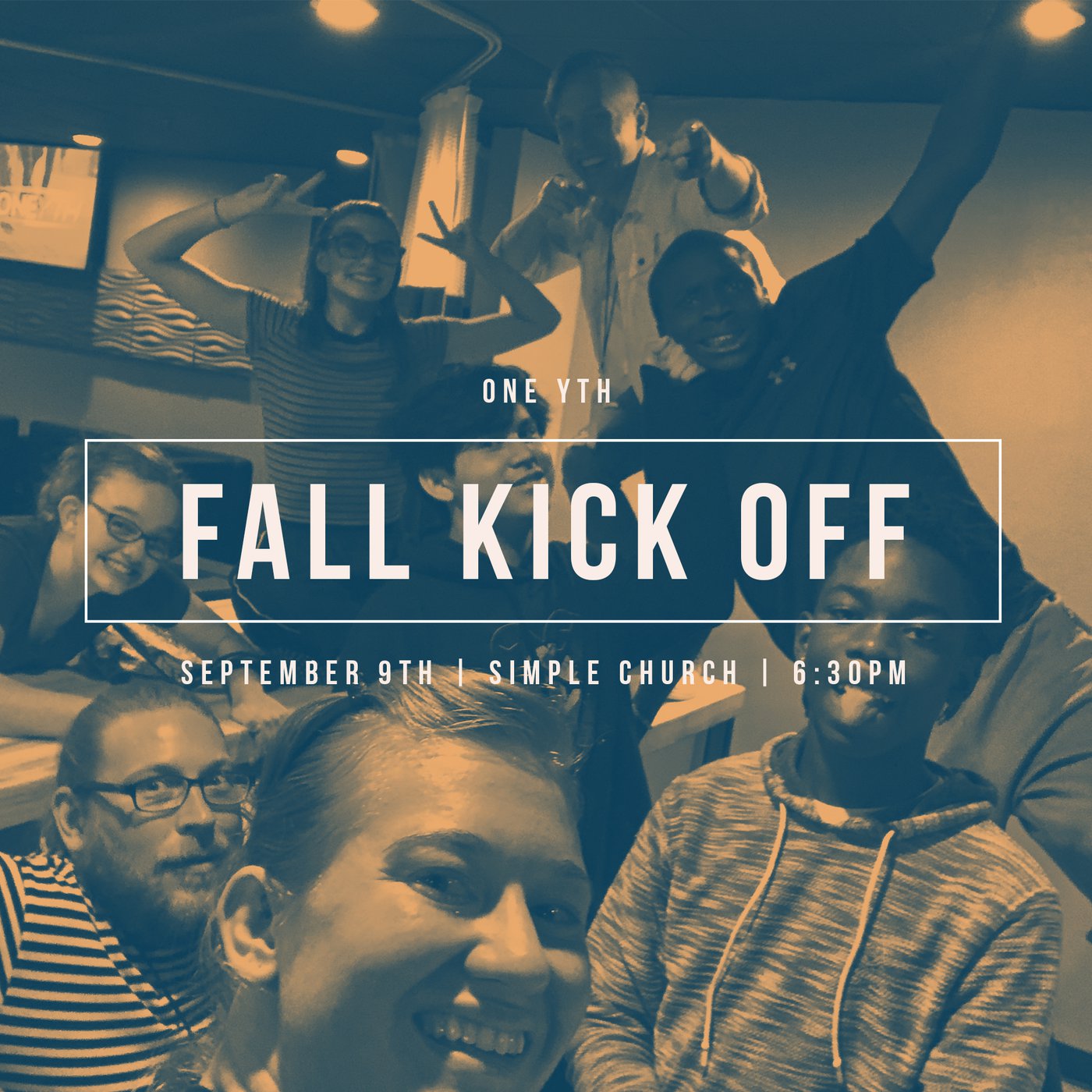 ONE YTH FALL 2020
Hey ONE YTH fam, this past season has certainly been a crazy one but like with all seasons they come to end and new ones begin. And we are certainly excited for what God has in store for our next season as a youth ministry and our excited to share it with you what that means for us this Fall!
SO HERE ARE THE BASICS . . .
The first night of ONE YTH will be on Wednesday, September 9th, from 6:30-8:00pm at Simple Church (aka Event Center West) We will continue to meet on Wednesday Nights, in person, as long as we believe it is safe to do so.
Parents are invited to join 30min before (anytime between 6:00pm & 6:30pm) for an Open House and an opportunity to connect with leaders as well as grab all the details they need on our upcoming season.
October 4th we will be launching Middle School & High School focused Small Groups that will meet every other Sunday evening. (Sign ups begin Sept 9th!)
Our next United Night is planned for October 21st, where we will be heading to Center Grove Orchard for a Fall Party!
We have also put together a 2020 Fall Calendar (which you can check out below) so that you can plan ahead as much as possible. However, we do want to let you know that dates and methods are subject to change as needed. If we do need to make a change to the schedule or method of ONE YTH, you will be immediately notified via Email, Text, and Social Media (Facebook & Instagram).
But overall we are looking forward to a new a season together and can't wait to be apart of it with you!
-Pastors Brandon & Amie
*for more detailed info on ONE YTH 2020/2021 as a whole you can also check out our current Parent Handbook below
FAQS
Because this is such a unique season and there are varying thoughts, concerns, and opinions on COVID-19 and gatherings, and we're sure you may have a few questions. Below we have done our best to ask and answer some FAQ's we have been receiving. If you have any other questions that were not mentioned in this email or you would like further explanation of an existing FAQ, please do not hesitate to give one of us a call or send us an email. We would be happy to talk with you about any and every question you have!
Call Brandon @ 515-661-7451
Call Amie @ 515-360-4236


WILL STUDENT(S) NEED TO WEAR A MASK TO YOUTH GROUP?
At this point in time we will not be requiring students to wear masks. However, masks will be available upon entry if you do wish to wear one. We know there will be times where we, as well as others, will be wearing a mask as an extra layer of safety, however we will not be requiring them at this point in time.
HOW WILL YOU KEEP STUDENTS SAFE DURING PROGRAMMING AND EVENTS?
We will be following the same phased plan as the rest of our Simple Church family. For more info on that phased plan you can CLICK HERE.
However below are a couple of the specific measures we will be taking to ensure every student stays as safe & healthy as possible:
All surfaces will be sanitized and cleaned before students arrive.
Hand sanitizer will be available upon entering the building and will be encouraged throughout students' time at youth group.
Leaders will encourage students to socially distance whenever possible.
There will be no community snacks or drinks (they will be individually wrapped and available for purchase only. FREE bottled water will also be available).
We will be taking attendance to track who has been in contact with who.
We ask that if a student or any member of their family is sick or has experienced symptoms of COVID-19 in the previous 14 days that they stay home and do not risk the health and safety of others.
WILL THERE BE ANY ONLINE OPTIONS FOR STUDENTS?
Yes! Throughout the Fall we will be posting weekly content to our YouTube Channel which will include video teaching, youth challenges, and other fun videos. We will also be posting daily on both Instagram and Facebook.
WHAT WILL IT TAKE TO SHIFT TO 100% ONLINE?
We will make the shift to 100% online if we see a significant increase in confirmed COVID-19 cases within ONE YTH gatherings or if local officials and experts recommend shifting online.
However, ultimately we will continue to follow the phased plan along with the rest of our Simple Church family.
If we do end up needing to make the shift to 100% online, you will be notified immediately of the plan moving forward.
WHAT IF I HAVE OTHER QUESTIONS?
If you have any other questions please feel free to give one of us a call, or send us an email, at the contact info mentioned above.
WE WOULD LOVE YOUR FEEDBACK
With all that said, like many of you, this season is completely new territory for us. We are doing our best to navigate it in a way that will best support our students and their families, but we realize we aren't going to get it perfect every time. And something that would help us as we continue to make decisions about ONE YTH this Fall would be if you took a couple minutes of your time to fill out the following survey. It would mean a lot to us if you did and will greatly help us in continuing to discover the best ways to support both your student(s) and your family during this season.