How to Practice Gratitude as a Family
by Tricia Calik - Children's Ministry
It's the time of year when everyone is talking about thankfulness. Counting their blessings. I think that while it's nice to do this one month out of the year, wouldn't it be great if we could focus on gratitude this month with the intention of creating new habits and routines within our family that led to the practice of gratitude being the norm? We spend this month actively focusing on being thankful for all we have to hopefully create new habits before Christmas rolls around when our children are often encouraged to focus solely on what they want. Having children who don't whine or complain, who don't only talk about the latest technology or toy that they *need* sounds nice doesn't it? How do we encourage these behaviors without scolding or lecturing? Encouraging positive thinking and the practice of gratitude sounds wonderful, but HOW? Where do we begin? If you're like me, just the thought of implementing yet another new routine or doing another activity from Pinterest might just be too overwhelming, especially this year.
So, I have compiled a few ideas for you, but please, do not be overwhelmed by this list. It is not exhaustive, there are many ways to encourage gratitude within your home, but maybe just pick one. One thing that might work for your family. One idea that could just open the hearts and minds of everyone in your home to focus on the good. The positive. The light in the darkness. The silver linings of this life.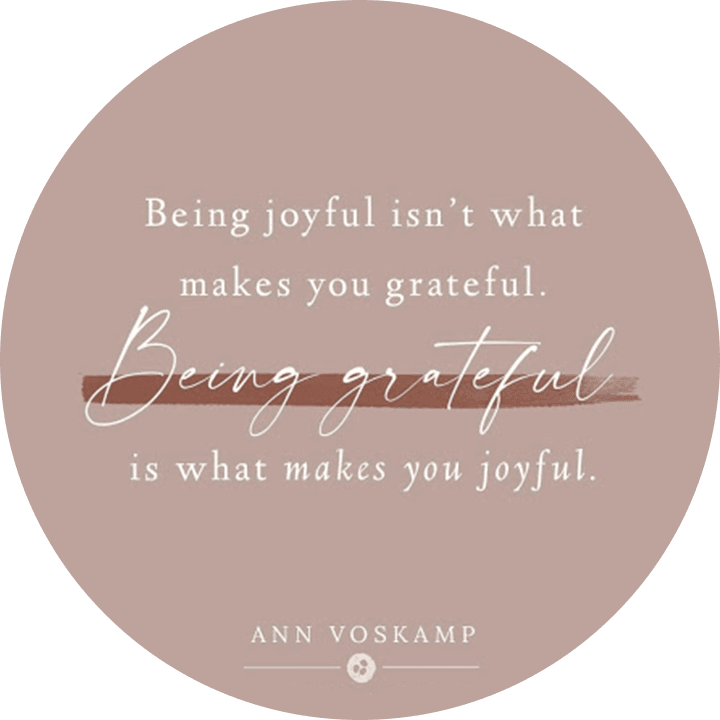 10 Easy Ways to Actively Practice and Encourage Gratitude
1. Photo Walk or Gratitude Walk
Take a walk around your home or your neighborhood. While you walk, talk about and focus on the things you are thankful for. You can say them out loud to each other or simply meditate on these things if you are walking alone. Another option is to take your phone or camera with you and take photos to document the things you see or can find throughout your home/neighborhood that give you gratitude. Take your photo walk a step farther and print the pictures to create a gratitude poster or gratitude wall within your home. Hang a photo on the refrigerator or bathroom mirror where you can be reminded of what/who you're thankful for each day. Each member of the family could also just take a photo each day of something they are thankful for and everyone could share their photos with each other at the end of the day. The purpose is to practice looking for gratitude in each day, the more you search for it, the more you will find it in the small, mundane moments of life.
2. Thank You Notes
Make a list of 5-10 people that your family is thankful for. Take time to tell them what you love about them by sending them a note or video! It will not only brighten your day to think about who brings you joy and gratitude but it will also brighten their day to hear your thoughtful words!
3. Praise Party
Take time to dance it out! Turn up the worship music and be reminded of truth and light and the goodness of God's love for you! This can be done in the car, during a morning routine, or anytime throughout the day when you or your kids just need to hit the reset button. It can be great fun to dance together and actively remember what you have to be thankful for.
4. Placemats or Table Cloth
Get placemats or a tablecloth that you can write on. Have each family member write what they are grateful for on the placemat or table cloth. When you set the table to eat together, you will be able to visually see and add to the positive moments, memories, people, and things that bring about gratitude in your life!
5. Gratitude Pumpkin
I saw this idea somewhere on my social media feed and implemented it with my family beginning mid-September all the way through October. Each evening, go around and have each person in the family say something they are thankful for. Write around the pumpkin and you will have a beautiful centerpiece or fall decor. You could also write on a plastic pumpkin or vase so your gratitude decor could be a more permanent fixture in your home. Check out this photo of ours! (for reference my boys are 5 and 3 yrs old)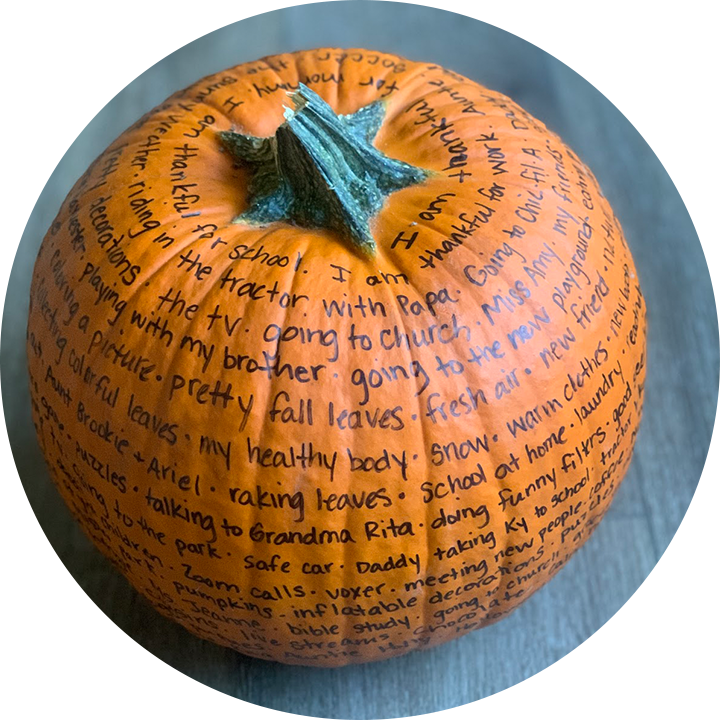 6. Thankful Bracelet
String beads on stretch elastic to create a bracelet. Have each color or bead represent something you are thankful for. As you wear the bracelet, be reminded of what each bead represents.
7. Journal
Get out some paper and write! You can make a gratitude list or journal about specific people/things you are thankful for. Depending on the age of your child, you may want to give prompts rather than just putting a blank page in front of them. Ask questions such as "who was kind to you today?" "What was your favorite moment today?" "Tell me something good that happened today." You could even write out the letters "THANK YOU" or "GRATITUDE" and each think of one thing/person that starts with each letter that you are thankful for or if you're really feeling ambitions write out the entire alphabet and think of something good that begins with every letter.
8. Prayer
It is so important to model prayer and to pray out loud in your home. You can thank God in a prayer while in the car, before meals, during the bedtime routine or any time really. Don't forget to model a thankful and joyful heart while praying rather than simply a list of things you need or want to tell God about. There is something powerful about telling God that you noticed the gifts He's given and ways He's provided for you and your family. Teaching the kids to do so might require some modeling or showing them through your actions but it is a beautiful thing to hear them pray out loud to thank God for their blessings, no matter how big or small.
9. Calendar
Get a printed calendar that you can hang in a convenient location or use a whiteboard/chalkboard calendar. You can have one for the whole family or each family member can have their own calendars. Each day write one thing/person on the calendar that you are thankful for. These are so fun to keep or look back on to find the good in every day, week, month, and year!
10. Scripture
Place scripture in visible places around your home. A few ways to do this is to write scripture on the mirror using a dry erase marker, framing beautiful prints to decorate your shelves and walls or simply put post-it notes around your home! Seeing and reading bible verses about thankfulness is an easy way to practice gratitude and focus on biblical truth. Here are a few just to get you started!
Give thanks to the Lord for he is good, His faithful love endures forever. Psalm 136:1
Be joyful always, pray continually, give thanks in all circumstances; for this is God's will for you in Christ Jesus. 1 Thessalonians 5:16-18
Let the message of Christ fill your lives. Teach and counsel each other with all the wisdom he gives. Sing psalms and hymns and spiritual songs to God with thankful hearts. And whatever you do or say, do it as a representative of the Lord Jesus, giving thanks through him to God the Father. Colossians 3:16-17
Fix your thoughts on what is true, and honorable, and right, and pure and lovely, and admirable. Think about things that are excellent and worthy of praise. Philippians 4:8
Devote yourselves to prayer with an alert mind and a thankful heart. Colossians 4:2
It is good to give thanks to the Lord, to sing praises to the most high. It is good to proclaim your unfailing love in the morning, your faithfulness in the evening, accompanied by a ten-stringed instrument, a harp, and the melody of a lyre. You thrill me, Lord, with all you have done for me! I sing for joy because of what you have done. Psalm 92:1-4